In 1967, College of DuPage was established, despite the lack of a campus. In the very same year, student journalists launched The Courier, a weekly newspaper covering COD through exceptional writing, quality photography, in-depth research and visually appealing design.
Ever since, The Courier's mission has been to ethically, accurately and efficiently report, promote, and explain school and community issues, as well as analyze their impact on the student body. While the times have changed, we remain dedicated in telling the stories of the students, staff and community members that make COD the school it is today.
The COD Library is in the process of digitizing past issues of The Courier. This is an ongoing project, and past issues will be posted as they are prepared for online publication. Please visit the Courier's
website
for the current issue.
Current Issue: Volume 27, Issue 27 (1994)
Issue Highlights
Stories:
McAninch Says Farewell, Colleagues Answer To Criticism
Conway Named Outstanding Female Graduate
Nickerson Named Outstanding Male Graduate
The COURIER Top 10 News Stories For The 1993-94 Year
Quotes Of The Year–1993-94 At CD In The Words Of Those Who Helped Make It Happen
Golfers Warm Up For Nationals Appearance
Female Athlete Of The Year: Beth Cwinski
Male Athlete Of The Year: James Holloway
Coach Of The Year: Jimmy Kelly
People:
H.D. McAninch
Catherine Conway
Christopher Nickerson
Jeffery Kalinowski
Cathy Stablein
Beth Cwinski
James Holloway
Jimmy Kelly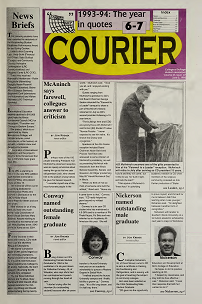 Editorial Staff
Editor In Chief

Kathy Cichon

News Editor

Jon Krenek

Arts & Entertainment Editor

Maht Wells

Sports Editor

Chris Clark

Features Editor

Asra Sheikh

Photo Editor

Matthew Kaarlela

Art Director

Doug Karo

Advertising Manager

Joanna Del Gallo

Advisor

Catherine M. Stablein