In 1967, College of DuPage was established, despite the lack of a campus. In the very same year, student journalists launched The Courier, a weekly newspaper covering COD through exceptional writing, quality photography, in-depth research and visually appealing design.
Ever since, The Courier's mission has been to ethically, accurately and efficiently report, promote, and explain school and community issues, as well as analyze their impact on the student body. While the times have changed, we remain dedicated in telling the stories of the students, staff and community members that make COD the school it is today.
The COD Library is in the process of digitizing past issues of The Courier. This is an ongoing project, and past issues will be posted as they are prepared for online publication. Please visit the Courier's
website
for the current issue.
Current Issue: Volume 22, Issue 1 (1988)
Issue Highlights
Stories:
Enrollment Jump Creates Parking Jams
Board Split On Plans For Westmont Regional Center
Main Campus Chief Eyes Better Orientation Communication
Board Okays Free Honors Courses
CD's President Named One Of Nation's Best
A Guide To The Courier And Its Philosophy . . .
People:
Ted Tilton
Harold McAninch
Strange Outlook
Pawal Checinski
Karl Wirsum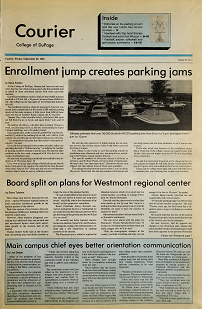 Editorial Staff
Editor in Chief

Steve Tolokon

Managing Editor

Lisa Daigle

Sports Editor

Stephanie Jordan

Advertising Manager

Joanna Del Gallo

Advisor

Catherine Stablein

Staff

Staff: Eric Beatto, Elke Holman, Michelle Miller, Geoff Beran, Steve Gibson, Dan Muir, Michele Bonk, Jason Larson, Dave Noble, Eric Bingham, Ruth Leaneagh, John Schaefer, Mindy Clinton, Charles Leprich, Steve Slomiany, Maren Egge, Linda Liang, Vickie Snow, Jim Frohnapfel, Erin McCarthy, Jeffrey Wojtasiak