Volume 12, Issue 15 (1979)
Issue Highlights
Stories:
Tech Programs Get OK
Minnesota Sociologist Says — Our Society Is Insulated Against Death And Dying
Reincarnation Has Its Followers
Student Help Needed — Suggest Pay Rate Hike Now
Production Dept. — Their Work Turns Up All Over The Place
Hot Food Will Come To A Bldg. Feb. 19
Rock and Roll: Is it Here To Stay This Time?
'Zippers Big Improvement' — 2 Septuagenarians Take Fashion Design
Gearings Examine Discharge Status — Second Look For Vets
People:
Robert Fulton
Polley Cosgrove
Ed Shaughnessy
the Boyzz
Pezband
Flora Gundel
Mary Deardorff
Tom Sorenson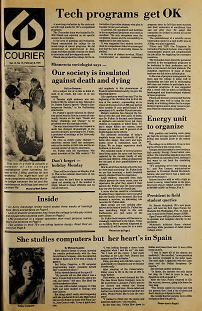 Editorial Staff
Editor

Dan Faust

Managing Editor

Criss VanLoon

Photo Editor

Darin VanWitzenburg

Sports Editor

Pete Garvey

Circulation Manager

Ben Eaton

Cartoonist

Art Dane

Copyreaders

Mark Plotkowski
Kathy Root

Faculty Advisor

Gordon Richmond