Volume 13, Issue 14 (1980)
Issue Highlights
Stories:
4-day Idea Popular, Informal Poll Reveals
Raising The Drinking Age Hasn't Cut Off The Booze
Sex 'Isn't The Issue' In Draft, ERA Rep Says
Johnson & Johnson & Johnson & . . .
Media Group Films Charity Promo
Data Processing, Nursing Are Top Majors
Proposed Skylight Changes LRC Plan
Tech Teachers Critical Of Planned 4-day Week
Students Talk Of Draft, Money, Sex, Drugs . . .
Forensics Again Wins State Title
People:
Ernie Banks
Kevin Shields
Tom Adrahtas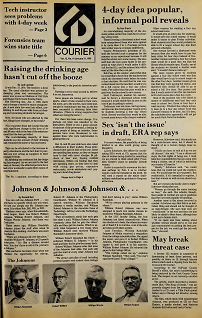 Editorial Staff
Editor

Dan Faust

Sports Editor

Tom Nelson

Ass't Sports Editor

Andi Konrath

Photo Editor

Tom Scheffler

Circulation Manager

Michael Gore

Faculty Advisor

Gordon Richmond