Volume 17, Issue 8 (1983)
Issue Highlights & Notes
Includes Courier Magazine Volume 2, Issue 2
Stories:
New Cafeteria 'Open For Business'
Student Raps CD Nursing Admissions
Tilton's Life A True Success Story
Prine, Goodman Bring Laughter, Song
The Nuclear Freeze Freedom Is The Key To Confidence
The Year In Review (cartoons)
Fall Sports Wrap-Up Winning Teams Pleasant Surprise
Many Colleges Concerned–Coaches See No Drug Problem Here
Christmas Thoughts
It's Too Cold Outside Unless You. . .
People:
Ted Tilton
John Prine
Steve Goodman
Nancy Svoboda
Bob Dvorak
Eric Semelroth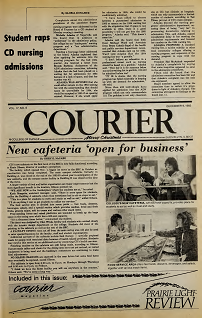 Editorial Staff
Editor

Kristine Montgomery

Managing Editor

Sheryl McCabe

Photo Editor

Brian O'Mahoney

Art Editor

Bob Dvorak

Advertising Manager

Nora Tidd

Business Manager

Mark Pfefferman

Staff

Chris Aiello, Sanober Balbale, Sue Barker, Judith Bluder, Diane Brunke, Ginni Campione, Liza Conroy, Diana Cummins, Shawnett David, Doug Dill, Gloria Donahue, Sue Durkin, Pat Eads, Andy Judge, Paige Kammer, Nancy Lee, Margurita Mei, Cheri Mershon, Lois Michel, Darron Mickelsen, Chris Mikenas, Steve Milano, Glen Morgan, Niebtha Raheja, John Rohan, Ann Roper, Kristin Schaefer, Eric Semelroth, Lois Sheridan, Scott Tomkowiak, Chris Tudisco

Faculty Advisor

James J. Nyka